Teeth Straightening (Braces)
Branch of dentistry that specializes in the diagnosis, prevention, and treatment of problems in the alignment of teeth and jaws.
The technical term for these problems is malocclusion, which means bad bite.
Common problems include teeth crowding, protruding of upper teeth, spacing, open bite, deep overbite, cross bit and lower jaw protrusion.
These problems can be solved by the use of corrective appliances such as braces, plates, headgears, functional appliances and retaining appliances.
Types of Braces:
Lingual
These esthetically appealing braces are available in translucent white to blend with the teeth making them less visible than traditional braces. Lingual braces are applied behind the teeth as compared to metal or ceramic braces which are applied to the front of your teeth. Often called "Invisible Braces", they are the best and only non-visible form of fixed orthodontic therapy. Although lingual braces are more expensive they offer a highly cosmetic alternative to those patients who otherwise would not consider treatment.
Lingual braces will transform the way you look. If your teeth are badly aligned now, they are also probably affecting your facial appearance. Since the alignment of your teeth contributes greatly to the way your mouth and jaws look, improved alignment results in a more attractive facial appearance. The way your teeth are aligned also affects your bite, as well as the bone and gum tissue. Proper alignment of your teeth and a correct bite promotes overall good oral health. Lingual braces are just as effective as traditional braces but as they are at the back, your teeth are not obscured and you can see your smile improve daily.
Damon
System is the only self-ligating system clinically proven to dramatically reduce treatment times, provide exceptional results and significantly improve patient comfort.
The Damon™ System of advanced passive self-ligating brackets, high-tech light-force archwires and minimally invasive treatment protocols provides remarkable advantages for you.
The Damon™ System is not just a new product, it's a whole new way of treating patients. Conventional treatment often requires removal of healthy teeth and/or the use of palatal expanders to make space. This approach is often uncomfortable, takes longer, and can leave a narrower arch and a flat profile. Damon smiles are full, natural 10-tooth smiles achieved with light biologically-sensible forces, and are specifically designed to improve the overall facial result of each patient.
Invisalign
is a method of orthodontic therapy promoted as an "invisible" way of straightening teeth without using traditional braces.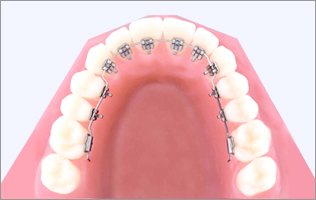 Invisalign uses a series of clear aligners that are custom-molded to fit you. The virtually invisible aligners designed to gradually reposition your teeth into a smile you'll be proud of.
• Remove your aligners to eat, brush and floss
• Change aligners every two weeks
• Your teeth move little by little
• Regular progress checks with our orthodontist
• Results often in 6 months to 1 year
• Most people won't notice you're wearing aligners
• Won't disrupt your lifestyle
• No metal wires or bands to irritate your mouth
• Examine your teeth, gums and mouth.
• Ask about your general health and any problems you've had with your teeth, mouth or gums since your last visit.
• Ask about, and give you advice on, your diet, smoking and alcohol use, and teeth-cleaning habits.
• Discuss a date for your next visit.
A certified Invisalign provider will create your individual treatment plan using Invisalign's clear, custom-molded aligners to solve a range of issues, including:
• Overly crowded teeth
• Widely spaced teeth
• Overbites
• Underbites
Crossbites Getting started couldn't be simpler. The path to your amazing Invisalign® smile begins here.